In March of 2012 alimony payors across the state rejoiced over the enactment of the new Alimony Reform Act. The Alimony Reform Act, among other things, provided the court and litigants with guidelines on durational limits and monetary amounts of alimony, but it also did another very important thing. The Alimony Reform Act provided for modifications of existing alimony orders that were entered into before March 1, 2012 under certain circumstances.
One of the most celebrated and controversial grounds for modification as the right of the payor to seek termination of alimony payments upon attaining full retirement age. Full retirement age is defined under the United States Old-Age, Disability, and Survivors Insurance Act, 42 U.S.C. 416. The age for most litigants today is between 65-66 years of age.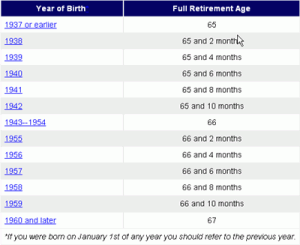 Despite the passage of the Act in March 2012 those who were paying alimony under a pre- March 2012 order were not entitled to seek a modification of that order until this year.  On March 1, 2013 anyone who has attained full retirement age, or will attain full retirement age by March 1, 2015 can file a complaint for modification to terminate existing alimony orders. The language contained on the Act also makes it clear that just because the alimony payor is still able to work past the age of retirement that will not be sufficient grounds to extend the order.
Extensions of these existing order can, however, be sought where there is good cause shown. To show good cause for an extension of the order an alimony recipient will have to prove by clear and convincing evidence that there has been a material and substantial change that occurred after the order entered that would require an extension of alimony payments.
The one caveat to this new law and the ability to modify existing alimony orders is that the agreements and/or court orders must merge into the judgment of divorce and not survive. If an agreement survives that means it is an independent contract between the parties and therefore not modifiable by the court.
If you were divorced prior to March 1, 2012, you are presently age 63 or older you should contact a knowledgeable family law attorney who can review your alimony order/agreement and determine whether or not you are eligible for relief from payment under the new Alimony Reform Act.